31/07/2014
Mise à jour du 01er août, vidéo avec sous-titres en français.
---------------------------------------------------
To see the english subs turn on the captions.
---------------------------
Ukrainian government prepares to strike chlorine reservoirs of Donetsk and Luhansk water treatment plants with ballistic missiles, also they are planning to accuse locals of it. Igor Strelkov asked journalists to help to prevent such actions by revealing these plans.
------------------------------------------------------
Ukrainian governement prepares to strike chlorine reservoirs
with ballistic missiles…
« (…) According to our data, and this data is confirmed – we have means to verify the info we receive, including technical means among others – during 3 nights, military transport planes have delivered 3 « devices » to the Kramatorsk airport… 3 missiles… for the balistic missile system « Tochka-U ».
These rockets are now being prepared for the launch. Their preliminary targets are water treatment facilities of towns : Donetsk and Luhansk. For your information, one of them contains 120 tons of chlorine… the other 160 tons of chlorine. Duplicate target is « Stirol » factory… it has huge reserve of ammonia… it's located in Gorlovka.
It's planned that before these rockets will be launched, propaganda campaign, that will state that militias are preparing to execute acts of terrorism on the checmical facilities of Donetsk and Luhansk, will be done.
I repeat one more time… Haven't I seen with my own eyes the actions of ukrainian troops eradicating our civilian population… their own population as they state… haven't I seen how, easy, to say the least they sacrifices lives and interests of citizens, I would probably consider this info just some bad joke… but after all these events… these people have no limit of moral degradation, they just don't have it, they have nothing sacred for then.
Consequences might be just horrifying… depending on the wind rose, area affected by the chlorine vapors in case of destruction of water treatment facilities might cover area from Donetsk to Volnovakha, for example… all living creatures would be killed in this zone… people, animals will die… everything will die. There is sufficient amount of chlorine to kill all living creatures on the enormous territory. There might be dozens of thousand of victims… maybe even more… depending on how will chlorine cloud move.
I do hope that your today's briefing will exclude such barbaric way of executing the punitive operation which they call anti-terrorist. This is the exact purpose of my speech, attempt to exclude the very possibility of use such weapons against water treatment plants of Donetsk and Luhansk.
I also emphasize that militia of Donetsk People's Republic, of Luhansk People's Republic do not execute any acts of terrorism… not against the population of Ukraine… not against the own population of own republics – a fortiori… not even against the enemy armed forces, if this might affect civilian population.
Now ukrainian armed forces are wondefully hiding covering themselves with civilian populations of what they accuse us… to avoid our shelling they enter peaceful villages and rest there carelessly. We don't shell them there… but still we're being accused of everything possible : taking hostages, assassinations, extrajudicial executions… accusing us of everything they do themselves… as if it are we who shell own towns, destroy ourselves, as if we shell our own positions, according to their opinion…
There's no limit for moral degradation of these people.
That's why I count on that you've all heard our statement… and you will make the barbaric eradiction of dozens of thousands people impossible. »
Igor Ivanovitch Strelkov
Igor Strelkov, Vladimir Antyufeev briefing : 31/07/14.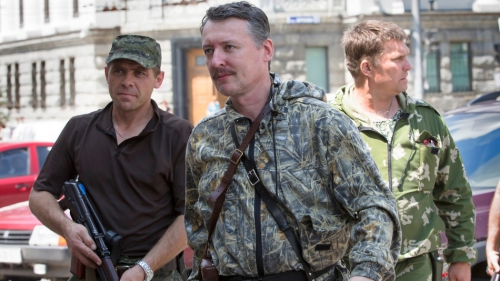 18:28 Publié dans Blog, Histoire européenne, Les ignobles, Monde en perdition, Politique / économie, Ukraine / Novorossiya | Lien permanent | Commentaires (0) | Tags : igor strelkov, donetsk people's republic, luhansk people's republic, novorossia, Новоро́ссия, Донецк, chlorine, ukraine, Україна, balistic missiles, war crimes, chlorine reservoirs